History of the Kearsarge Volunteer Fire Department in Erie, PA
Beginning in the early 1900's, with a hand-drawn cart and a few friends, Mr. George Steva founded the Kearsarge Fire Department to provide
fire protection to the Erie community
. Officially organized on April 20, 1939, the first Chief of the Department was Clive Lyons, and the first President was G.W. Bartholomew. The early years had the department headquarters in a large garage in the 5800 of Peach Street.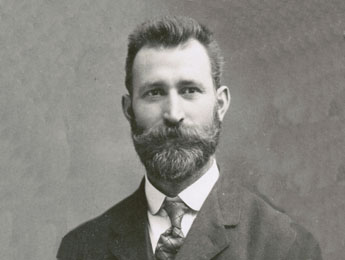 By 1948, a new fire station was built at 5618 Peach Street. The original station housed three pieces of apparatus, a large assembly room, and a kitchen. In the mid-1950's, an 18-foot by 60-foot addition was built to house a ladder truck and a rescue truck. The Kearsarge Fire Department continued to grow with the community. In 1976, the fire station was given a facelift with another addition and extensive remodeling.
The Kearsarge Fire Department remained at the Peach Street location for 41 years until commercial development and an ever-increasing amount of traffic necessitated a move to a new station.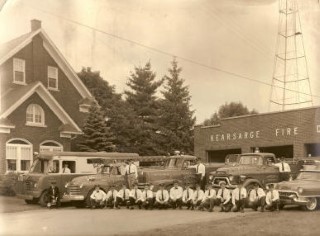 Built in 1989, the new fire station (4930 West Street) has enough space to house three pumpers, one tower ladder truck, and two ambulances. For the 30 active volunteer firefighter members, there are lockers, bunkroom facilities, lounges, and offices upstairs as well as a small meeting room, large assembly room, kitchen, storage, and radio room downstairs near the apparatus bays. To keep with tradition, a brass pole was donated and installed in a glass atrium area.
The current membership consists of 5 volunteer firefighters with over 30 years of experience each, including F. Patrick Scully, who joined in 1961. Some of our former members have joined career departments with the City of Erie, City of Kinston, NC; Elkhart, IA; Fairfax County, VA; Henrico County, VA; and Pittsburgh EMS.
Some major incidents that the Kearsarge Fire Department has responded to include the airport hanger fire in 1947, a fatal plane crash in 1966, The 100 Year Flood in 1996 in which the department answered over 100 calls for service within 24 hours, a multi-family apartment fire in 2009, and the Lake Erie Dental Fire in 2013.
We are looking forward to celebrating our 79th year of volunteer service in 2018 as a 100% volunteer firefighter organization. We would like to thank all of the Millcreek and Erie community members, past members, and current members for your support. We couldn't do it without you!